---
Message posted by Pauline
on 29 Déc 2011
Kendra and Hank went in San Diego to make Christmas in Patti's home with her GrandMa.
Patti share with us a picture of her and Kendra, GrandMa and Baby Hank <3 during Baby Hank birthday!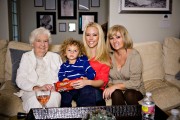 ¤
Lil Hank birthday
[x1]

---
Message posted by Pauline
on 25 Déc 2011
Kendra published on Twitter some pictures of her Christmas Eve with Hank Jr. and her husband Hank.
¤
Christmas with The Basketts
[x1]