---
Message posted by Pauline
on 03 Jan 2012
Kendra Wilkinson and Holly Madison have rushed to Hugh Hefner's defence after hearing that the woman who jilted him wants custody of the dog they shared.
After calling the engagement off, one day before they were due to wed in June, the 25-year-old settled for keeping her $95,000 engagement ring – which she auctioned off for $47,500 at Christie's – plus the car he had given her as a wedding present.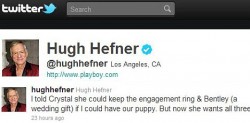 Hefner revealed on Tuesday that the blonde has come back for more.
'I told Crystal she could keep the engagement ring & Bentley (a wedding gift) if I could have our puppy. But now she wants all three,' he posted on Twitter.
On hearing the news yesterday, Kendra was quick to add her thoughts.
After Hefner wrote: 'I just received a call from Kendra lending her support in the controversy over the puppy. Love that girl.'
She was prompted to comment: 'That dog loves you so much. Crystal abandoned him and now she wants him back. She's mean, mean, mean.'

Shortly afterwards, Holly concurred with Kendra's post, writing, '@KendraWilkinson @hughhefner I agree!!! I'm so glad you said something, Kendra!!
'dogs shouldn't be yanked from happy homes on a whim. She needs to quit attention-seeking!'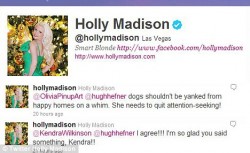 Crystal tweeted this: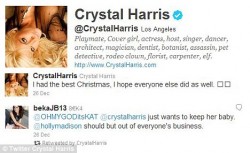 Credit: DailyMail

---
Message posted by Pauline
on 29 Déc 2011
Kendra and Hank went in San Diego to make Christmas in Patti's home with her GrandMa.
Patti share with us a picture of her and Kendra, GrandMa and Baby Hank <3 during Baby Hank birthday!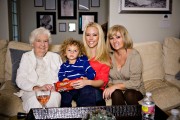 ¤
Lil Hank birthday
[x1]