---
Message posted by Pauline
on 05 Jan 2012
I just post on the gallery OK! Magazine scans where appear Kendra. Thanks to Krissy (KWBPage on facebook).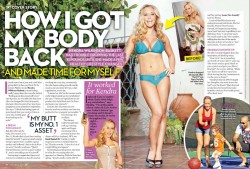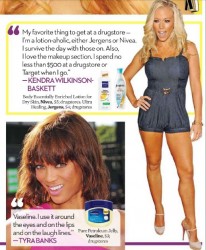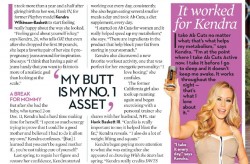 ¤
OK! Magazine (January 16th, 2012)
[x5]

---
Message posted by Pauline
on 04 Jan 2012
Former Playboy models Kendra Wilkinson-Baskett and Holly Madison are sharing their weight loss tricks in the new issue of OK! magazine. Kendra had trouble dropping the last 10 pounds and Holly feared she'd never reclaim the perfect body of her youth, but in OK! magazine, they tell you how they did it with a few healthy lifestyle changes!
It took more than a year and a half after giving birth to her son, Hank IV, for Kendra to start feeling really happy about the way she looked.
« Feeling good about yourself is key, » says Kendra 26, who tells OK! that even after she dropped the first 30 pounds, she kept a favorite pair of her size 0 pre-pregnancy jeans around for inspiration. She says: « I think that having a pair of jeans handy that you want to fit into is more of a realistic goal than looking at the scale.« 
As for Holly, she was shocked to discover that she was losing the battle of the bulge after a lifetime of striving to maintain her Playboy body. She packed on 20 pounds last year and woke up one day realizing that she needed to do something about it — fast.
« I never weigh myself, » the 33-year-old star of Holly's World and Las Vegas' Peepshow confides to OK!. « I had started dancing in Peepshow six nights a week, and I thought I was invincible and could eat whatever I wanted and just burn it off during the show. »