---
Message posted by Pauline
on 18 Juil 2015
Kendra is in Vegas (July 18th) with her friends to a mama trip. She is in Bellagio and spend time at Wet Republic.
She is with Bethany, Adrienne Janic and new mom Jessica (beautiful body!).
2 photos of their instagram: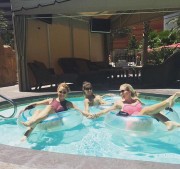 ---
Message posted by Pauline
on 18 Juil 2015
Hi everyone,
I begin de THANK YOU all 101.000 people who came in this site. THANK to Kendra!
I will made updates sometimes this month because I'm very very late in Kendra's news.
Thank you to Krissy who help me with ALL photos that I missed.