---
Message posted by Pauline
on 15 Fév 2012
They make an interview in exclu for Sheknows.com. It's not like it's the first time that Kendra has let cameras in her bedroom, but it is the first time she's got in bed with SheKnows. Now the young mother and wife is sharing all her tricks to keeping it hot.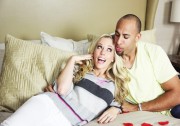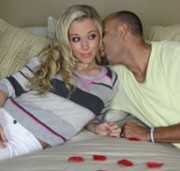 ¤
In bed with Kendra and Hank
[x2]
I post extract of the interview. If you read all, click here:
Love Candy
From whips to whipped body lotions, there is nothing Kendra Wilkinson and Hank Baskett don't have in their bedroom.
« It's like an Easter egg hunt in here, » Kendra joked when we joined her and hubby Hank in their bedroom recently. « Everywhere you look you're going to find something. »
Kendra just released her own line of sensual products called « Love Candy » and was excited to show SheKnows how she and Hank use it.
« It's kind of a fun way to spark the romance, » said Kendra.
But products aside, Kendra and Hank have many ways they keep the romance alive. She let us in on some songs they love!
Kendra's sexy song playlist:
1. Voyage to Atlantis by Isley Brothers
2. Freakin' You by Jodeci
3. In Those Jeans by Ginuwine
4. You Remind Me of Something by R. Kelly
5. Anything by Sade
Date night
« After the first year of marriage the spark kind of dies down a bit, » Kendra told us. « You have to be creative. We get a little fun, a little wild sometimes. »
Kendra says enjoying a few glasses of wine, going bowling and trying new exotic cuisines are a few of the ways she and Hank spice things up.
« We try not to do the same thing, think outside the box, » she said.
But with a 2-year-old on their hands, finding the right time and setting the mood isn't always easy. Kendra says the key is to build anticipation for a romantic evening.
« I think that the foreplay starts at the bowling alley, before you go back home, » said Kendra. « Flirting with each other while bowling, or grabbing each other's butt, being fun and playful. »

---
Message posted by Pauline
on 03 Fév 2012
Kendra make some pictures to promote her 'Love Candy Collection' (see last post). Kendra gets in the mood for Valentine's Day with her « Love Candy » romance kit.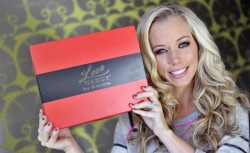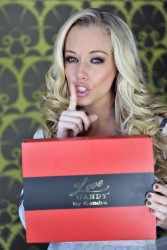 ¤
Promotion – Love Candy Collection
[x10HQ]
[EDIT] Update more 8 photos in HQ.
Please credit the website if you use this pictures to your blog/website. THANK YOU!